4TH OF JULY @ Berkeley Marina
Wednesday, , noon-10pm

---
ENTERTAINMENT 2018
BLASTS OF FUN ALL DAY!
JULY 4 @ THE BERKELEY MARINA
GUARANDINGA
Main Stage 7:30-9:30
Led by singer Rowan Jiménez and bassist/producer Jeremy Allen, Guarandinga performs a signature style of Latin Afro-Pop that integrates hip-hop, rock, and Venezuelan folklore with gritty East Bay funk. They'll get you out on the dance floor!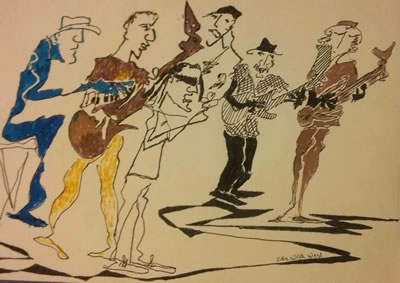 IDLEWILD WEST
Main Stage 5:15-7:15
An Allman Bros. tribute band with Mike Green on vocals, Tim Peck on slide and lead guitar, Chris Planas on lead guitar, Ric Perez on Hammond B3 and piano, Rob Waxman on bass, and Bill Swanson on drums. These musicians have been playing in rock, blues and jazz bands for many years. They have fun on stage and want you to feel the enjoyment as well. Eat a peach for peace!
STOMPY JONES
Main Stage 3:15-5:00
Little David Rose's thumpin' stand-up bass, the double-shuffle drumming of Lee Beary, and the bounce piano of Scott Lawrence provide the rhythmic foundation of the band's jump style. Riffing on top is the guitar sound of Allen Jackson and Jeff "Erv" Ervin on the saxophone. These two fellas create the fireworks of vintage rhythm and blues. The charming vocals of Glen Walters have become a trademark of Stompy Jones.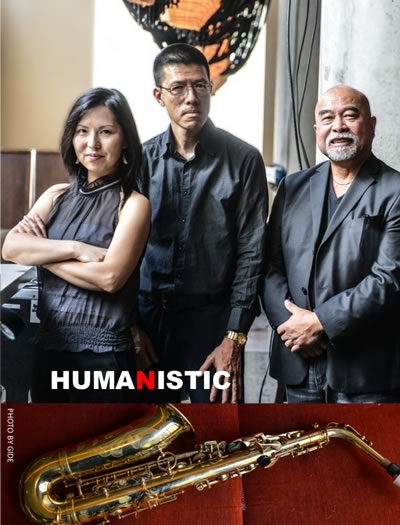 HUMANISTIC
Main Stage 1:30-3:00
This jazz funk unit has been together since 2007 with world-class sax player, Otoe Mori playing originals by keyboardist Vince K. together with Ben Luis on bass and Greg German on drums. We want everybody to feel 'Humanistic.'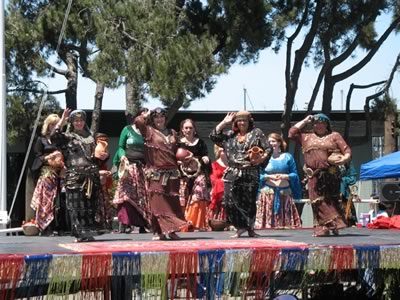 TROUPE TANGIERS & SHARIFA'S HABIBIS
Main Stage 12:00-1:15
Troupe Tangiers and Sharifa's Habbibis recreate traditional dances from North Africa, Turkey, and the Middle East regions. Their joyous celebration of women's bodies through the ancient art of Belly Dance are created and directed by the talented dancer and teacher, Sharifa Ohanesian.
AFRO CUBAN RUMBA DRUMMING
1:00-6:00PM SE Marina Shoreline
Sam Siegel puts together a great afternoon of drummers performing on the point south of Cal Sailing Club. As their rhythms carry out over the water, you can dance along side their group.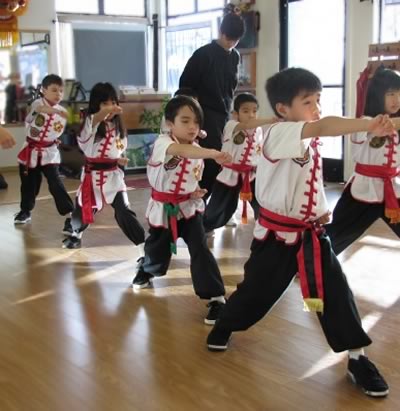 GOLDEN LION MARTIAL ARTS
1:00-1:45 Food Court Amphitheatre

Students of traditional martial arts perform disciplined kicks, punches, sparring and more.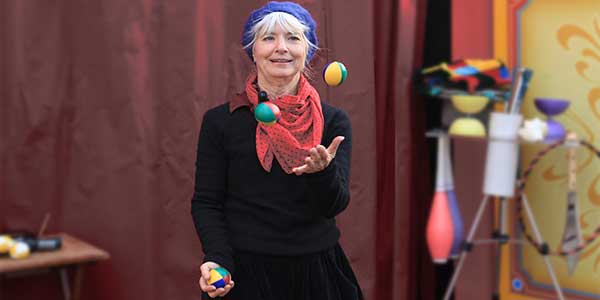 THE MERRIE MARY SHOW
2:00-2:45 + 4:00-4:45 Food Court Amphitheatre

This is a unique variety act featuring comedy, juggling, pantomime, magic with a one-of-a-kind pole walking finale! Mary entertains people of all ages with her cute 90 pounds of audacious pluck!
FAILURE TO DISPERSE!
3:00-3:45 Food Court Amphitheatre

Carol Denney, James Nelson, and Steven Strauss play old time and folk music on acoustic instruments just as they were played in the days of yore - or even today! Come sing with us!
SEAN LEE: A ONE-MAN BAND
5:00-5:45 Food Court Amphitheatre

A true artist in every sense of the word, Sean Lee is a seasoned performer of both street and stage, recently returning from his third solo US tour. Simultaneously playing banjo, bass drum, and tambourine, his one-man band get up was decades in the making. It is guaranteed family fun.
BAY STATION
6:00-6:45 Food Court Amphitheatre
California-based songwriters Kwame Copeland and Deborah Crooks combine their talents to create a diverse form of Americana music. Singing songs about love, lust, sandy beaches, dusty roads, wolf birds and more, they recently released their third record, Other Desert Cities.
Entertainment Schedule
Download Schedule (coming soon)
Thanks to our Sponsors 2017

This event is accessible to persons with disabilities. To request disability accommodations, please call the Disability Services Specialist at 1(510)981-6418 (voice), or 1(510)981-6347(TTY). At least one week's notice will ensure availability.