Chocolate & Chalk Art Festival
2020 Festival will go live and virtual on
September 26, 2020


Details TBA

Take BART to Downtown Berkeley and stroll north just six blocks... [Map]
Chalk Art Contest!
Eat Chocolate!
Free Admission.
2020 details coming soon
The sidewalks along Shattuck Ave. in North Shattuck in North Berkeley are the target of artists young and old, professional and greenhorn during the 21st CHOCOLATE & CHALK ART FESTIVAL on Saturday, August 24, 2019.
MAKE ART! With no fees to artists, areas of sidewalk are assigned for you to create your own fanciful chalk drawings. Same-day art registration takes place 10AM-5PM in event booths where colorful artist's chalk is available for $10. Several professional artists will make large works for inspiration.
A CHALK ART CONTEST for the best drawing will be judged after 4PM. Cash prizes provided by North Berkeley Investment Partners are $150, $100, $50 and runners-up get a $25 gift certificate from Books Inc. Winners will be notified by Wednesday after the event. See prior winners here.
EAT CHOCOLATE! Purchase your tasting tickets ($1/ea. or 20/$20) at 1495 or 1607 Shattuck Ave. on the day of the event or online at Eventbrite.
The to-go menu features over 25 items including chocolate dessert pizza, chocolate rum gelato, English toffee, chocolate chip waffles, Oreo shakes, bittersweet chocolate pudding, chocolate ganache cupcakes, or savory menu items such as spicy mochas, chocolate empanadas or a chocolate molé chicken. For vegans there are cookies, cupcakes and gelato, too.
Spend your tickets on these delights available in the local businesses then savor your chocolate as you stroll along the sidewalks, viewing the artwork. Chocolate Menu items are available during the hours listed and only while supplies last. Items may be substituted. All items are sold 'to-go' only. If you get too full drop your leftover tickets in a raffle jar for specialty items.
SUPER FUN! Festival booths fill the blocks between Rose and Vine Streets. Enjoy music near the CVS Performing Area at 1451 Shattuck including jazz and steel pan drums or be entertained by a one-man band and circus art performers near Books Inc at 1491 Shattuck. The Berkeley High Jazz Ensemble and others perform near Cedar & Shattuck.
This is a family-friendly, free event produced by Another Bullwinkel Show 510.548.5335 and sponsored by the North Shattuck Association, Books Inc., North Berkeley Investment Partners, Safeway, 510Families, Berkeley Community Media, Berkeleyside, East Bay Loop, the Express, and Yelp.
For a good time, take BART to downtown Berkeley and stroll north six blocks.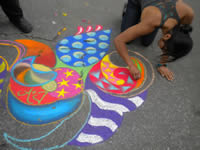 JOIN OUR COMMUNITY IN MAKING ART A PART OF OUR LIVES!
Schedule and Entertainers | Eat Chocolate!
Sponsor the festival | Get your logo chalked by an artist
Thanks to our 2019 Sponsors!

This event is accessible to persons with disabilities. To request disability accommodations, please call the Disability Services Specialist at 1(510)981-6418 (voice), or 1(510)981-6347(TTY). At least one week's notice will ensure availability.
Chocolate & Chalk Art Festival © 2019 Another Bullwinkel Show
More Berkeley Events >