Berkeley Events... Coming Right Up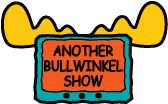 Event Management — San Francisco East Bay Area
We put on real
Badenov

events — mostly free street festivals, art & culture events, business socials, theme parties, picnics or whatever else sounds fun. We've got the scoop on the local scene, where to go and what to do — we're real

Ms. Know-It-Alls...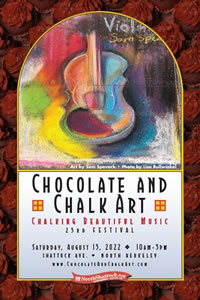 Chocolate & Chalk Art

Saturday,

August 13, 2022
Chalk Art Contest! Eat Chocolate! Free Admission
Persian Fest event is cancelled for 2023. Thanks for checking in!
Jump over a bonfire for "Chaharshanbeh Souri: Festival of Fire" to shake off the darkness of winter and welcome the brightness of spring, a Persian ritual passed down since ancient Zoroastrian times. Persian music, food and craft vendors, cultural organizations, and children's activities add to the experience.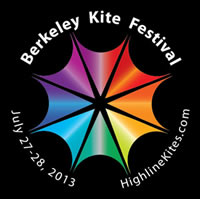 2022 FESTIVAL IS CANCELLED
Though we don't in any way want to diminish the challenges facing us today, it really is this simple: getting outdoors, flying a kite, and looking up are good for us. They have always been good for us, and are more important now than ever before. For over three decades, the Berkeley Kite Festival has been an important part of the rich cultural heritage and diversity that make Berkeley such an exciting place to live. We will miss seeing all of you, and will especially miss working with our volunteer team that tops 100 members. Best wishes and health to all of you. Here at HighlineKites.com and AnotherBullwinkelShow.com we hope that our efforts to encourage kite flying and kite making this summer can do just a little bit to make our world brighter, stronger, today and into the future.
Stay Safe and Happy Flying, Tom McAlister, Lisa Bullwinkel, and the Berkeley Kite Festival Team
2020 EVENT IS CANCELLED
free event for children of all ages
Bring your boots and mittens to play in the snow that is predicted to gently fall in the parking lot on the frontage road between Rose and Vine on Shattuck Ave.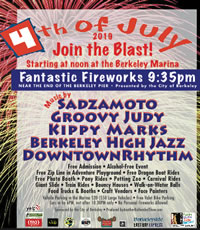 2022 Event is Cancelled
Berkeley Marina
Entertainment all day! Fun! Food! Fireworks!
Alcohol-Free Event • Free Admission
Sunrise Gathering and the Creation of a Human Peace Sign

Post Election,
November 18, 2016
As a community celebration of Berkeley's shared values. Produced by Another Bullwinkel Show at the request of Mayor Jesse Arreguin and Council Member Sophie Hahn.
Video Credit: Kevin Kunze
Other Events in Berkeley and the Bay Area
Berkeley Artisans Holiday Open Studios
Berkeley Pagan Festival & Parade
Temescal Street Fair