Chocolate & Chalk Art Festival
2020 Festival will go live and virtual on
September 26, 2020


Details TBA
EAT CHOCOLATE!
Purchase tickets ($1/ea. or 20/$20) at 1495, or 1607 Shattuck Ave. on the day of the event or in advance at Eventbrite.
The to-go menu features over 25 items including chocolate dessert pizza, chocolate rum gelato, English toffee, chocolate chip waffles, Oreo shakes, bittersweet chocolate pudding, chocolate ganache cupcakes, or savory menu items such as spicy mochas, chocolate empanadas or a chocolate molé chicken. For vegans there are cookies, cupcakes and gelato, too.
Spend your tickets on these delights available in the local businesses then savor your chocolate as you stroll along the sidewalks, viewing the artwork. Chocolate Menu items are available during the hours listed and only while supplies last. Items may be substituted. All items are sold 'to-go' only. If you get too full drop your leftover tickets in a raffle jar for specialty items.
Or buy tickets at 1495, or 1607 Shattuck Ave. during the event
CHOCOLATE MENU
Business

Address

Menu Item

Boby G's Pizzeria
1451 Shattuck
Chocolate Dessert Pizza - 4 tix
Javi's Cooking
1451 Shattuck
Dulce de Leche Banana Walnut & Chocolate Empanada - 4 tix
Masse's Pastries
1469 Shattuck
Walnut & Chocolate Chunk Cookie - 1 tix
Saul's Deli
1475 Shattuck
Chocolate Pudding - 2 tix
Love at First Bite
1510 Walnut
Ultimate Chocolate Mini Cupcake (Reg, V, GF) - 1 tix
CheeseQuakes!
1511 Shattuck
Triple Chocolate Baby CheeseQuake - 2 tix
Lush Gelato
1511 Shattuck
Chocolate Rum Gelato - 4 tix
Chocolate Cayenne Gelato - 4 tix
Dark Chocolate Gelato - 4 tix
Mexican Chocolate Gelato - 4 tix
Chocolate Orange Sorbetto - 4 tix
Gregoire
2109 Cedar
Dark Chocolate Pudding w/White Chocolate Sauce - 3 tix
M. Lowe & Co.
1519 Shattuck
Chocolate Strawberry - 1 tix
Barney's on Shattuck
1600 Shattuck
Oreo Shake - 4 tix
Guerilla Café
1620 Shattuck
Chocolate Chip Waffle - 8 tix
Mocha - 5 tix
Spicy Mocha - 5 tix
Vitality Bowls
1625 Shattuck
Temptation Smoothie w/Chocolate - 3 tix
ACCI Gallery
1652 Shattuck
Milk Choc. English Toffee w/Pecans & Almonds - 3 tix
White Choc. English Toffee w/Macadamia Nuts - 3 tix
Dark Choc. English Toffee w/Pistachios - 3 tix
Poulet
1685 Shattuck
Mexican Molé Chicken Wing - 2 Tix
Bittersweet Chocolate Pudding Cup - 1 Tix
Caravaggio Gelato Lab
1797 Shattuck
Sur Del Lago Dark Chocolate Gelato - 4 tix
Apurimac Dark Chocolate Gelato - 4 tix
Ginaduia Chocolate Hazelnut Gelato - 4 tix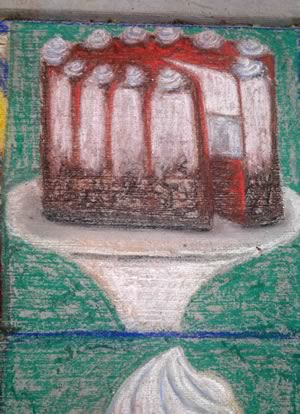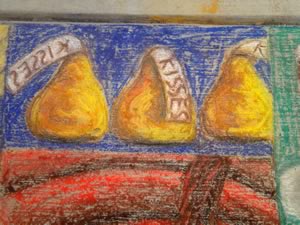 JOIN OUR COMMUNITY IN MAKING ART A PART OF OUR LIVES!
Thanks to our 2019 Sponsors!

This event is accessible to persons with disabilities. To request disability accommodations, please call the Disability Services Specialist at 1(510)981-6418 (voice), or 1(510)981-6347(TTY). At least one week's notice will ensure availability.
Chocolate & Chalk Art Festival © 2019 Another Bullwinkel Show