Chocolate & Chalk Art Festival
Saturday,

June 19, 2021, 10am

-4pm,

North Shattuck




Shattuck Ave.

in

North Berkeley

,

CA
Take BART to Downtown Berkeley and stroll north just six blocks... [Map]
Chalk Art Contest!
Eat Chocolate!
Free Admission.
The sidewalks along Shattuck and Cedar streets in North Berkeley are the target of artists young and old, professional and greenhorn during the 22nd CHOCOLATE & CHALK ART FESTIVAL on Saturday, June 19, 10AM-4PM. In order to keep us all healthy, there won't be a street festival this year but there will be lots of joy.
MAKE ART! With no fees to artists, areas of sidewalk are assigned for you to create your own fanciful chalk drawings. The theme for this year is "Art Sparks Joy." Families or groups may work together, artists may work alone, but everyone comes away with a sense of pride in their work for all to see. First 25 to pre-register online at Eventbrite get a free box of chalk. Otherwise, register in person on Saturday, June 19 at the event booth at Shattuck & Cedar where a box of colorful artist's chalk is available for $10.
A CHALK ART CONTESTfor the best drawing will be judged after 4PM. Top three winners will receive cash prizes ($150/$100/$50). Ten runners up get a $25 gift certificate from Books, Inc. Winners will be notified by Wednesday after the event. See prior winners here.
EAT CHOCOLATE! This year, due to COVID, no formal tasting menu or tickets will be produced. Local businesses will be offering special chocolate treats and gift items for sale. Follow the North Shattuck Assn. @NOSHABerkeley for the list.
This is a family-friendly, free event produced by Another Bullwinkel Show and sponsored by the North Shattuck Association, City of Berkeley Civic Arts, and Books Inc.
For a good time, take BART to downtown Berkeley and stroll north six blocks.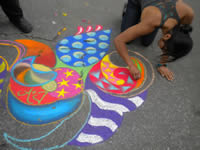 JOIN OUR COMMUNITY IN MAKING ART A PART OF OUR LIVES!
Thanks to our 2021 Sponsors!
Media Sponsors:


This event is accessible to persons with disabilities. To request disability accommodations, please call the Disability Services Specialist at 1(510)981-6418 (voice), or 1(510)981-6347(TTY). At least one week's notice will ensure availability.
Chocolate & Chalk Art Festival © 2021 Another Bullwinkel Show
More Berkeley Events >